Life Cycle Assessment
Calculate the impact of your product or service on the environment.
Contact us
Measure

the

s

ustainability

of your project
Do you want to know the ecological footprint of your product? Or are you in doubt about the sustainability of raw materials for a new project? If you want to know and improve the environmental impact of your project, product or service, you need a Life Cycle Assessment (LCA). Our environmental experts can calculate the environmental impact of your product or service, providing you with insights on various environmental categories across (a part of) the value chain.
The European Union sees LCA as the best framework for assessing environmental impacts. For various European and national applications (some form of) LCA is already being used as foundation.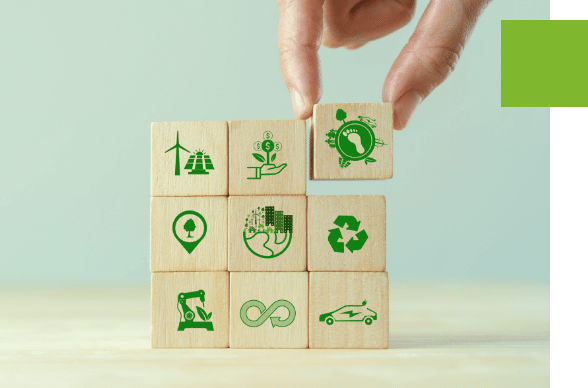 What

are

the

benefits of a L

ife Cycle A

ssessment

?
By gaining knowledge and insights of the impact on the environment of your product or service, an LCA provides opportunities in various areas. For example, think of:

Using an LCA to support different types of applications, such as Horizon Europe, the CSR Performance Ladder and the Environmental Investment Allowance (MIA). Using our expertise within the financing landscape, we can find a good match with programs for your LCA.

Get a tangible indication of the sustainability of your product or service, which you can then communicate to your customer.

Provide insight into the impact of your product or service on the environment, thereby contributing to more efficient product development.

Use a comparative Life Cycle Assessment to compare the environmental impacts of different products and services.

Provide support in making strategic and sustainable choices for your products or services. Our experts are aware of all current sustainability themes and are happy to assist you.

Identifying hotspots for innovation in the entire chain or within your own processes.
Curious about the benefits of a Life Cycle Assessment for your project? Contact us for a free consultation.
How does a Life Cycle Assessment work?
We perform a life cycle assessment based on the ISO 14040 framework. ISO 14040 defines the principles and frameworks to perform a correct LCA. We go through four phases with every analysis:
Goal and scope definition

Inventory analysis (LCI)

Impact assessment (LCIA)

Interpretation and implications of the data.

 
Impact of your product or service
This gives you insight into, for example, the impact of your product or service on: 




Human and freshwater toxicity (DBC-eq)

Stratospheric ozone depletion (CFC-11-eq)

Abiotic depletion of minerals (Sb-eq)

Abiotic depletion of fossil fuels (megajoule)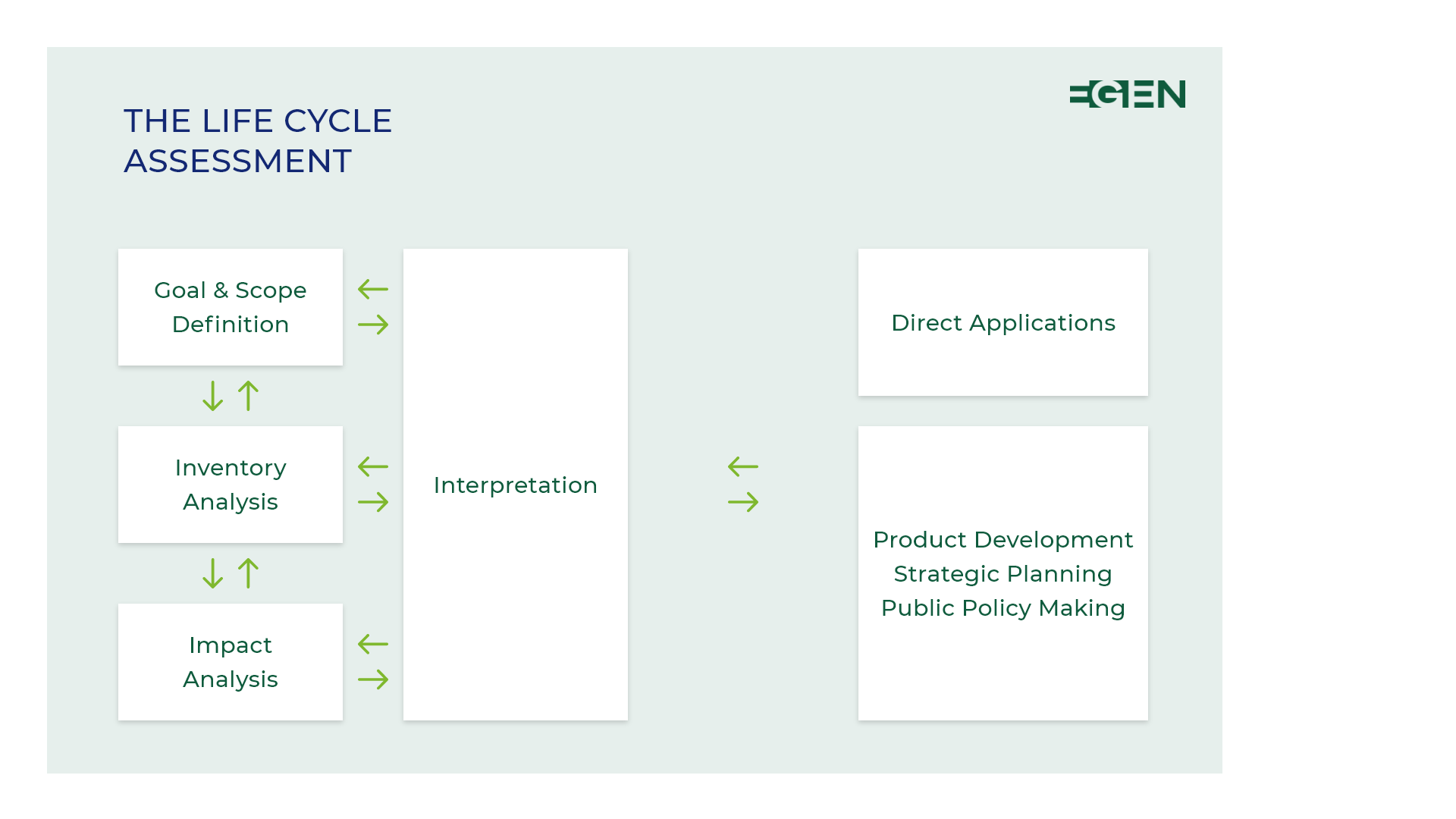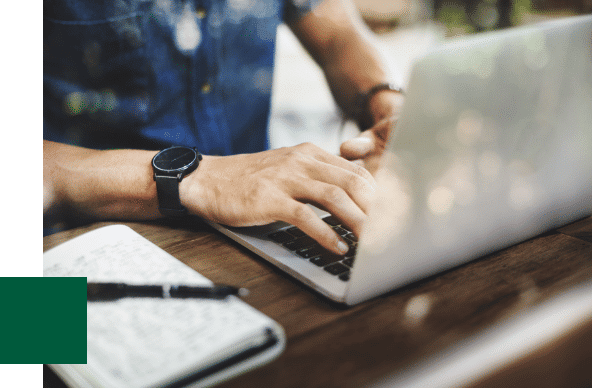 For these analyses, it is important to be able to use reliable data that is a good reflection of current technology. EGEN has up-to-date software (OpenLCA) and access to a large recognized database (EcoInvent 3.8) to perform the Life Cycle Analysis. With this you are always assured of calculations that are supported by environmental data from all over the world. 
Projects with L

ife Cycle Assessments
Curious about the impact a Life Cycle Assessment can have on a project? Thanks to an LCA, these customers have been able to take the next step in their innovation process: 
Prolifex
For this project, EGEN performed a CBA and an LCA. With the LCA, Prolifex was able to demonstrate the environmental improvement of the new recycling process compared to a reference scenario.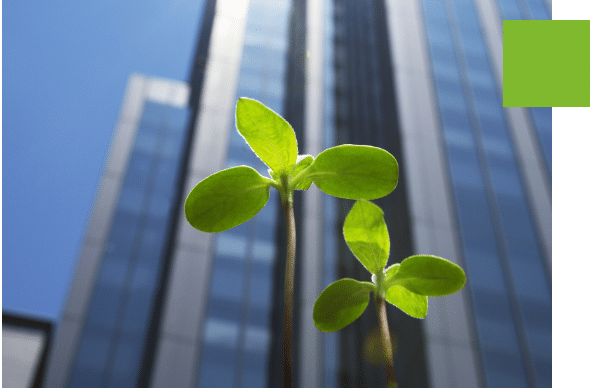 What is a lifecycle assessment?
The LCA (Life Cycle Assessment or Life Cycle Analysis) is a method with which you map the influence of products, services or an activity on the environment. With calculation models we look at the complete life cycle of a product, a service or activity. 
Why use a life cycle assessment?
The European Union sees the Life Cycle Assessment as the best framework for assessing environmental impacts to support the EU policy-making process and the ambitions of the Green Deal, among many other policy initiatives. For various European and national applications (a form of) LCA (The Product Environmental Footprint (PEF) and Organization Environmental Footprint (OEF)) is already being applied as support, service or activity. 
How do you carry out a life cycle analysis?
We carry out a proper Life Cycle Assessment in accordance with the ISO 14040 standard. We go through the standardized four steps and work from the goal and scope definition of the analysis towards a calculation. Contact us for more information about an assessment or request an LCA for your company. 
What are examples of life cycle assessments?
You can find a Life Cycle Analysis in all layers of a company. Think of a partnership for eu projects, where potential partners for sustainability projects would like to find out more about the ecological footprint of your organization. But also, an HR department that wants to show candidates how sustainable the company is. 
What are examples of impact categories?
There are many different and relevant environmental categories that can be measured using an LCA. For example, in addition to the impact of your product or service on climate change (in CO2-eq), LCA can also map the effect on acidification of soil and water, depletion of mineral and fossil raw materials, aquatic ecotoxicity, and air and water pollution. It is also possible to show the impact at a higher aggregation level, for example the effect on human health and biodiversity of your product and/or service. LCA thus provides a very broad representation of the environmental impact.
What is the difference between midpoint and endpoint impact categories?
Midpoint and endpoint impact categories represent different aggregation levels of impact for the environmental effect of your product or service. Midpoint impact categories focus on standalone environmental problems, for example climate change or acidification. Endpoint impact categories show the environmental impact at higher levels of aggregation, such as the effect on human health, biodiversity and resource scarcity.
INNOVATE TOGETHER
Wondering what we can do for you?
Contact us for advice without obligation.
How can we help you? Contact us or send us a message for a swift reply.
Email
info@egen.green
Phonenumber
+31 (0)88 838 13 81