mobility
Sustainable transport of goods and people
For years, EGEN has been working on the topic of mobility to contribute to more sustainable transportation. Whether it is sustainable transportation of goods and people, sustainable mobility infrastructure or smart mobility, we support our clients with the development and implementation of sustainable mobility strategies.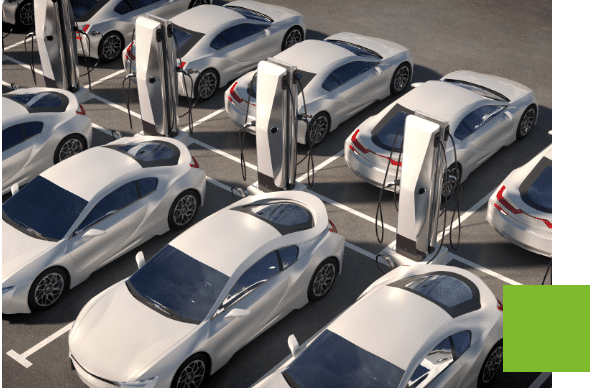 ZERO EMISSION VEHICLES
The European Green Deal and Dutch climate agreement ask to make transportation of both goods and people more sustainable. Before 2050, the pollution of transportation in Europe has to decrease by 90%. To realise this, about 13 million low emission vehicles need to be on the European roads. EGEN offers support in each phase of this large scale sustainable mobility transition towards zero emission vehicles, both for the transportation of goods and people. EGEN is not just an expert on large scale projects but also helps start-ups with innovative ideas develop further. We identify opportunities and possibilities, help attract financing for the development phase and support successful initiatives in the scale-up phase. We do this on regional, national, and European level.
SUSTAINABLE MOBILITY INFRASTRUCTURE
In the next couple of years, it is necessary to modernise existing infrastructure. Not just to allow for the transition to e.g. zero emission vehicles and make them future proof, but also to allow for the transition to other sustainable means of transport, such as rail, inland waterways and aviation. This means innovation is needed, for example in loading and refuelling infrastructure. Modernising and digitalising existing car, rail and waterways are also of essential importance. EGEN is the partner and connector related to sustainable mobility infrastructures.
SMART MOBILITY
Simply put, smart mobility is using ICT for mobility. This includes alternative transportation systems, e.g. within cities for city distribution, improving road safety or managing transportation. EGEN's experts work on these topics each day and are up-to-date on the newest innovations. Because innovation is key to smart mobility. Using new information and communication technologies sounds exciting. For us, it is an everyday occurrence. We are up-to-date on the possibilities of blockchain, are a partner in large European projects related to smart charging and work together with our clients to research the feasibility of innovative, smart mobility ideas. Besides this, we support the development of accompanying business cases and provide insight into opportunities and possibilities.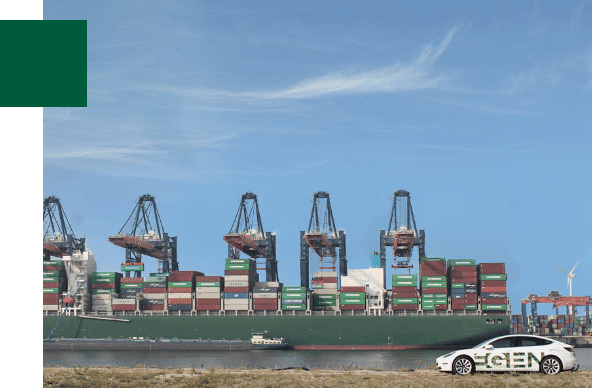 Together with our clients, we have worked on various projects in the field of mobility. including:
DKTI Transport VERZET
A recent example is the DKTI Transport VERZET project (Accelerated Evolution Rotterdam Zero Emission Transportation construction sector). Within this project, we proved that the right mix of smart vehicle and fast charging technology can realise emission free construction logistics on the short term.
ZES project
EGEN has also supported the ZES project with the successful application of DKTI Transport subsidy. Within ZES, ING, ENGIE, Wartsila and Havenbedrijf Rotterdam work together to introduce a transport concept for emission free inland waterways. Thanks to changeable battery containers, inland waterway ships become emission free.
container terminal rotterdam world
This project focusses on the realisation of a fully automated, multimodal container terminal at the Tweede Maasvlakte in Rotterdam. The subsidy was provided for the construction of the new container terminal and the investments in required automatised loading and unloading facilities.
gateway
By compiling an online guide with more than 100 funds for urban areas, it is clear which cities have the ambition to move from a linear to a circular economy.
cross-border rail section
Within this project, we researched how the rail connection between Venlo and Kaldenkirchen can be made future proof by getting rid of several bottlenecks. Venlo's position as multimodal cargo hub and the efficiency of both goods and person transportation around Venlo has been increased in this way.
GreenCharge
EGEN is a partner within this project, in which we used pilots in three different cities (Oslo, Bremen and Barcelona) to show which technological solutions and business models are suitable for the large-scale application of sustainable driving. Within this project, we work on getting rid of bottlenecks which hinder large-scale introduction of electric vehicles for several groups. By actively partaking in smart mobility projects, EGEN helps with the acceptance of green innovations.
How can we help you? Contact us or send us a message for a swift reply.
Email
info@egen.green
Phonenumber
+31 (0)88 838 13 81